Solder Wire Kits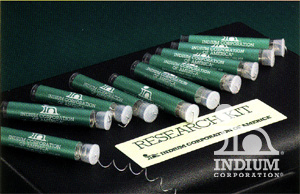 One of the key hurdles in product development is being able to test a variety of options at a reasonable cost. With our Solder Wire Selector Kits you can select various assembly solders to experiment with, then choose the one that works best in your application.
Whether your application calls for lead-free, low temperature, or high temperature, the alloys listed below will help in the selection process. Personalize your kit with 3, 5, or 12 different alloys.
For assistance in determining the correct solder to use with a metallization, please refer to the additional information provided below.
Showing all 4 results