Indium Shot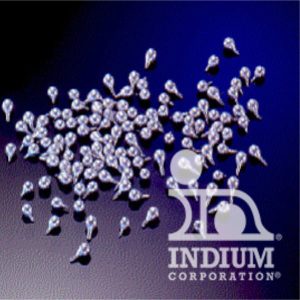 Shots are round or tear-dropped shaped pieces of metal that are typically used to weight quantities of other alloys, fill vapor deposition crucibles or fill anode baskets with indium for electroplating.
For tear-dropped shaped shot, the typical diameter of the body is approximately 0.125″ (3.175mm) and the length of the tail can vary depending on various parameters, such as the surface tension of the alloy.
Round shot is used to maximize the pack density in deposition crucibles by 15-20%. This option can increase throughput by decreasing downtime caused by source materials depletion. Typical round shot diameter is 1-3 mm. Please call for a quote on round shot.
Showing all 6 results